Autorstwa Olga Kulig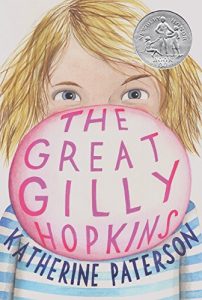 The great Gilly Hopkins is a book by Katherine Paterson which was originally published in 1978 and has been republished multiple times since.
We learn "that all those stories about happy endings are lies "* as we gather more and more experience in life. Then we confront our expectations with reality and sooner or later we come to the conclusion that life goes on in its own rhythm, independent of our imagination. Sometimes it is happy, sometimes difficult, and we have to take it as it is. Enjoy the happiness and deal with the difficulties. I think this is called maturity.
Maturity is not lacking in eleven-year-old Gilly, the protagonist of Katherine Paterson's book. In Gilly's case, her maturity was not determined by time, but by her experiences, especially bad ones. First, she was abandoned by her mother, then she was rejected by successive foster families. The reader meets the girl when she is on her way to another family. This time Gilly has a firm resolve not to get hurt again. To that end, she has come up with a plan: she will not allow anyone to like her, not to mention that she herself has absolutely no intention of getting attached to people or places.
Important topics
Katherine Paterson touches on very important topics in the book. She shows the emotions and feelings of a child whose behavior gives back everything that she herself got earlier. A child who desperately needs to "be somebody's", so he glorifies his absent and indifferent mother while ignoring others. The author also questions whether a surrogate mother has the right to feel and to what extent she can become emotionally involved. A surrogate mother must create a loving and caring home for her charge, but she must never forget that it is not her child. Paterson also asks what is ultimately better for the child, the biological family or the foster family? Or is it possible to love both families?
And while the issues raised in the book are very serious, the author tells them with remarkable humor and warmth. This makes the book all the more beautiful and subtle. The characters, although a bit exaggerated as it is in children's literature, are extremely authentic, it is impossible not to like them. But don't be fooled by the label "children's literature". This is no fairy tale or imaginary children's story. Many adults can learn a lot from the wonderful and wise Gilly. Because this story is as true as can be.
*K.Peterson, "Wspaniała Gilly", Warszawa 2018, str. 194.
? You can find more recommended books here.
Recently added entries.
We invite you to read the latest entries.