Białe płatki, złoty środek. Historie rodzinne
Autorstwa Olga Kulig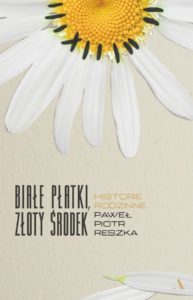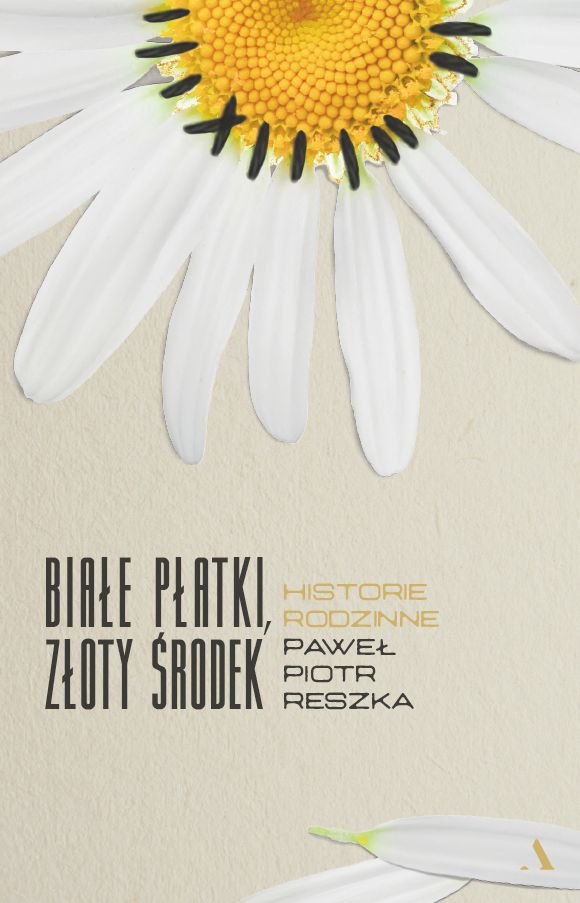 Pawel Piotr Reszek's book titled "Białe płatki, złoty środek. Historie rodzinne" which translates to White Petals, Golden Middle. Family Stories" has only been published in the polish language to date.
They say that journalism is a dead profession.
That in the 21st century, where everyone has a camera phone with them, there is no need for journalists. That now everyone can be a reporter, report on reality, their own here and now, from their own unique point of view. That the truth can finally be an objective truth, because it is told individually, without the simplifications and generalizations of the collective imagination. Without noise and information distortions, there is no longer a need for a chain transmission of facts, like a deaf telephone, where information melts into rumor and is subject to manipulation. Everyone can be a spokesperson for their own cause, their own experiences, and experiences.
We report on our own lives. We use our phones to immortalize unusual events that we were given the opportunity to participate in. Someone has a video from the sports stands, someone captured the lightning striking a tree, and someone else created a live account of a meeting with their favorite politician. But that's not all. We also show our inner selves. And literally. We massively publish photos of our children, we boast about our living arrangements, we share photo reports from family vacations. We even brag about our families and homes. We boast about our children's successes, high salaries and extraordinary dishes that look beautiful on a plate.
However, to what extent such videos and photos are faithful documentation of reality, and to what extent they are a calculated creation, an attempt to create ourselves anew, for the better, although in a virtual world?
Well, nobody is going to post a picture with a black eye after a domestic dispute. Nobody will capture on film the first spanking of a child with a belt. No one is going to share a video of a family party. No one will boast about having been robbed, beaten or raped. That the child hanged himself. That the mother hanged herself. The father and son bludgeoned the mother. That the mother killed the newborn. That a foster family objectifies children instead of supporting them. No one will ask for likes when they get older and no longer have the strength to care for their autistic adult son. No one will do a live report of an exorcism being performed over a child with suspected schizophrenia and record the mechanism of psychosis induction, imparting madness to the entire family. No one will boast about a photo of an extremely neglected and starving daughter.
Paweł Piotr Reszka in his latest book "Białe płatki, złoty środek" collected reportages published in "Duży Format" and "Gazeta Wyborcza" in 2010-2021. One of his characters asks: "It happened and what will such a reportage heal? "*.
It's not this way.
It's not that a reportage is needed to talk about what you yourself are ashamed to talk about. To shout when we ourselves are stubbornly silent. To show what we ourselves scrupulously hide, what we suppress from our consciousness. What does not fit into the aesthetics of social media.
Probably more to deny, or at least enter into a polemic with the idealized image of the Polish family. To give distance. To ask questions about responsibility.
Because one coherent picture emerges from this collection of texts. It is seen only from a distance, a distance that only a professional journalist can afford. Each tragedy described here is an individual tragedy, involving a specific family and specific people. Each drama has already happened and cannot be undone or repaired; it is the ultimate event. The harm done is irreversible. All these stories taken together, taken as a whole, prove above all the weakness of the system in which we live and which we create. Weaknesses not in individuals but in society as a whole.
Good, independent and reliable reportage should cause a powerful moral hangover. Such an awakening, though painful and traumatic, can heal the society and give it a reason to act.
So we do need reporters after all.
—-
*P.P. Reszka, "White Petals, the Golden Middle," Agora Publishing, Warsaw 2021, p. 184
More recommended books can be found here.
Recently added entries.
We invite you to read the latest entries.