Autorstwa Urszula Dyrcz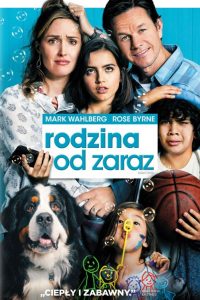 Instant Family is a 2018 American production. The film tells the story of a married couple who decide to become a foster family and this is how three Latino children come under their roof. Starring Mark Wahlberg and Rose Byrne and directed by Sean Anders.
Pete and Ellie Wagner, who specialise in finishing houses, lead a quiet life as a childless couple. It only took one website for everything to change. After much deliberation and a clear lack of understanding from family and friends, Pete and Ellie decide to take in their three siblings as a foster family. As the three Latino kids cross the threshold of the Wagner home, the plot gains incredible momentum, offering the audience a range of emotions. The story gets especially complicated when their biological mother appears in the children's lives. The difficult past of Lizzy, Juan and Lita, who have been shuffled from one home to another for years, makes them unable to trust their "new parents" so immediately. They put the marriage to a myriad of tests. How does the story end?
By chance : Instant Family
I came across the film Instant Family some time ago while boredly flicking through TV channels. I didn't pay much attention to it then. Yesterday I watched it consciously and I was surprised how many times my eyes teared. A Instant Family is not just a banal family comedy. It is, above all, an incredibly beautiful production that carries a deeper message. The whole story might seem completely predictable and obvious at first glance, but the twists and turns of the plot make it not just another comedy filmed according to a certain pattern. All the characters have their own unique character, the dialogues are intriguing and evoke the right emotions depending on the context and the whole setting lends an incredible authenticity.
One of the most important and difficult moments in the story is Pete and Ellie's conversation with the eldest sibling, Lizzy, who wants to know why the couple decided to adopt her and her two younger siblings. The Wagners cannot immediately answer the teenager's question. The process of two adults maturing to answer the girl's question is beautiful, interesting and incredibly poignant. Instant Family is a remarkable story about the difficulties of taking on the care of children who are already carrying their own baggage of experience, usually far too much for their age.
It is a story about beautiful but also difficult love that needs to be fought for and nurtured. The story about the process of getting to know people who are complete strangers to each other, gaining trust and building a strong relationship from scratch. It is not an over-sweetened and over-coloured portrayal of the adoption process, as seen in other films on this subject. Instant Family shows the reality in a way that reveals the flaws in the adoption process that are rarely talked about out loud. The director approached the subject very seriously, showing the bittersweet world of foster care and touching on controversial themes at times. No wonder, as the story is based on real events – Sean Anders and his wife decided to adopt three children themselves some time ago. In Instant Family, Anders decided to bring to the big screen what he himself had experienced in real life.
A comedy with depth
According to Filmweb, Instant Family is classified as a comedy of manners. Yes, the production features many elements typical of comedies, but apart from light and funny scenes, there is much more to it – a story full of emotions, which leaves a mark both in the mind and in the heart. World cinema needs more such productions that entertain, move, educate and raise awareness. It is definitely worth spending two hours to enter the world of this unusual and incredibly family!
Recently added entries.
We invite you to read the latest entries.