Autorstwa Aga Szmaja-Nosan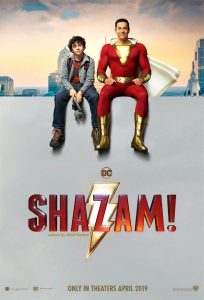 Shazam! is a fantasy film that is a casual and successful comedy about one of the superheroes of the DC Comics series. It is great for both youth and adult audiences parodying the genre. Directed by David F. Sandberg, it was released in 2019 and is currently playing on Netflix.
In the beginning, we are briefly introduced to a magical event in the life of a boy in 1974, riding in a car with his brother and father, who treat him coldly, critically and mercilessly. During the trip, the boy teleports inside a dark fortress whose walls are supported by demonic statues. Deep inside, an old man sits on a throne – the heir to extraordinary powers. Due to his weakening powers and advanced age, he is looking for his successor. The boy is put to a test of "purity of heart", but fails. When he fails the Wizard hears that he "will never be worthy" to learn the magic secret.
Many years later, as a financially well-off man full of resentment, he directs research to lead him back to the Wizard. When his plan comes to fruition, he decides to unleash the monsters locked in the fossils and allows himself to be swayed by the urge to take revenge and do evil.
while …
We then move to modern day Philadelphia, where we meet Billy Batson, a troubled teenager in search of his mother. Billy is raised in an orphanage. He has already been placed with a foster family several times, but none of the attempts has succeeded. The boy is convinced that his biological mother will eventually take care of him and that he lost her by accident. In the film, we witness another entrustment of Billy. In the Polish system, we could say that it is a family orphanage. The new guardians give the pupils freedom of feelings, necessary support, understanding of the difficulties experienced in the new environment.
One evening Billy finds himself in the fortress of the Wizard, who has been constantly looking for his successor. This time, the Wizard recognizes the good in the boy, which he himself does not see, and gives him superhuman powers. The boy turns into a robust man in a superhero costume. Unfortunately, the Wizard gives up the ghost along with passing on his magic, and Billy is forced to discover his superpowers on his own. In time, aware of his abilities, he confronts evil.
Despite the very funny tone of the film, the important themes it raises come to mind. Above all, they concern children, their sensitivity and the influence of adults on the future. The characters share good and evil, but each of them started out as an innocent child, full of needs, rich in imagination, looking for love. The sad metamorphosis of the first protagonist was largely dictated by the lack of understanding from his brother and father. Having heard repeatedly that he would never be good enough, the boy devoted his entire life to proving what he was worth. As an adult, he still seeks approval and avenges himself of all the unpleasantness he suffered as a child.
distinguishing good from evil
Reality often shows the intensity with which our words are received by children. Comments about us or our surroundings shape their world view. It is adults who teach us to distinguish between good and evil, not always intentionally. Unfortunately, sometimes they turn out to be precisely that evil, leaving a mark on children who did not know it before.
The group of children who represent good and victory in the film "Shazam!" is made up of pupils from children's homes. They are very young people who have already experienced fate. Thanks to their new guardians, who show understanding and try to convey as many positive emotions as possible, the children regain their balance and feel loved and needed. Despite the lack of biological ties, together they form a real family, surrounding each other with support and tolerance for each other's needs. They are a group of people who may have been destroyed by past events, but with a little help they have gained new strength. With great fortitude, they can face further adversity. And by learning what love and caring is, they bring out a "purity of heart" that gives supernatural powers and spreads to others.
"I am a foster mother. And what is your power?" – check out where in the film this subtitle appears.
Recently added entries.
We invite you to read the latest entries.