I trampled a black cat by accident
Autorstwa Olga Kulig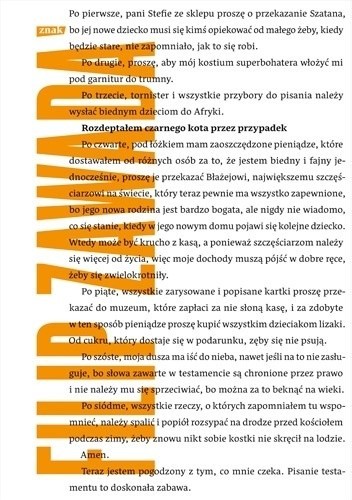 In his book "I Trampled a Black Cat by Accident" Filip Zawada faces the difficult subject of finding logic in a world completely devoid of it. Published by ZNAK in 2019.
For this purpose, he reduces not only language but also emotions to the simplest forms. He shows us the world through the eyes of an orphaned child. A child who constantly asks questions trying to give meaning to his life and better understand it.

Because who invented these stupid names of the week? Are nuns women? And what is the difference between friendship and love? What do they have cigarettes for? And God? Can he afford everything? And why do they need gloves? And can you be a good man if you are a bad bastard?
By giving us access to the inside of a child's diary, the author makes us partners in searching for answers. He also makes us compassionate, enabling us to experience with the protagonist the accompanying emotions such as loneliness, rejection or lack.
In an extremely warm way "I Trampled a Black Cat by Accident" shows the burden of life with the stigma of abandonment. Forcing us to re-evaluate our own life. For is it only "bastards who can never forget that they must be stronger than their fate"?
You can find more recommended books here.