Autorstwa Anna Kopacz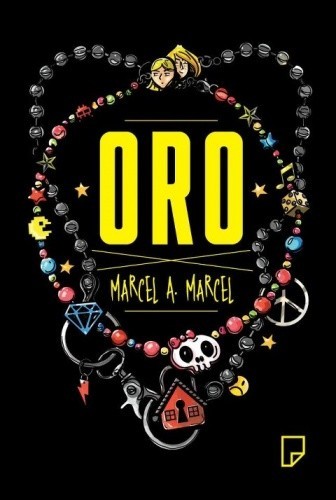 The book, written under the pseudonym Marcel A. Marcel, is a story of loneliness accompanied by ORO, an imaginary companion. Published by Marginesy publishing house in 2012.
The authors Olga Sawicka and Danuta Łukasińska, are behind Marcel A. Marcel. They illustrate a funny but very serious description of what it is like to be alone. That in our aloneness we have a choice of loneliness and in reality will never be alone. Highlighting how our actions and inactions have consequences (better or worse) in the lives of others.
The book for the most part takes place in a home. In a home that seems more like a magical galaxy with interconnected planets that dependent on each other. Dependent but are so vast, different, unique in their environments. Like the vastness of the planetary environments, are the house members of Lena's new foster home. Each inhabitant is unique in their character, abilities, interests. But as are their stories of the past and complex emotional and physical situations that they struggle with.
Lena, who's voice narratives the story, doesn't quite see it this way upon arriving in her new, yet another home. As the reader, we feel the cold and wounded heart that Lena arrives with to the colorful galaxy home. And through the story we experience her process of warming up and getting to know the world through ORO eyes. As a result, we start to come out of her bubble of loneliness and apathy towards the world.
In short, the story is moving, questioning, and 'laughing out loud' kind of funny. It is truly one of our favorite books, especially if you are just becoming acquainted with foster care.
You can find more recommended books here.
Recently added entries.
We invite you to read the latest entries.