Autorstwa Olga Kulig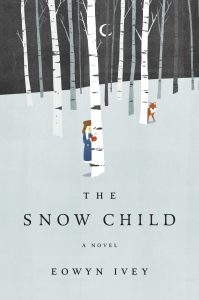 The Snow Child is a book written by Eowyn Ivey and published in 2011 by the Little, Brown and Company.
Mabel and Jack have no children. They once had one, but it was dead and Mabel never even saw it exactly. Jack buried the baby in the orchard before they could love it. They have pain and emptiness instead.
Nurturing these feelings they abandon their current lives and head to Alaska. The harsh and cold climate of the far north creates ideal conditions for a lonely existence full of suffering.
Falling into a winter sleep, not feeling, not thinking.
A crack in their icy lampshade appears with newly met neighbours. The bustling and lively Benson family brings smiles and warmth into the lives of the protagonists, and the emptiness slowly begins to fill.
On impulse, the newlyweds make a little girl out of snow. The next day the snowman disappears, but a real little girl appears on their doorstep. The ice is completely broken.
The Snow Child is a beautiful story about love and parenthood. Reality intertwines here with fairy tales, the cold climate of Alaska with the warmth of home, and longing with hope. Nothing is given once and for all. Only hard and systematic work can turn the harsh Alaskan soil into arable land, and every smallest piece of land has to be carved out by nature. And it is the same with people. Endless layers of love and acceptance will create a lasting and close relationship with another human being.
You can find more recommended books here.
Recently added entries.
We invite you to read the latest entries.